Cheap Dorm Decorating
No budget for your new college pad? Cheap dorm decorating will take a bit more work when you're dirt broke, as opposed to the student whose parents take them on an Ikea shopping spree the week before move-in.
Unless you're seriously antisocial, you're going to have visitors you don't know stopping by every now and then. Don't sacrifice the last few dollars you have buy "unclean", ugly stuff for your dorm, check out these ideas to get you started.
Split Costs with Your Roommate(s)
---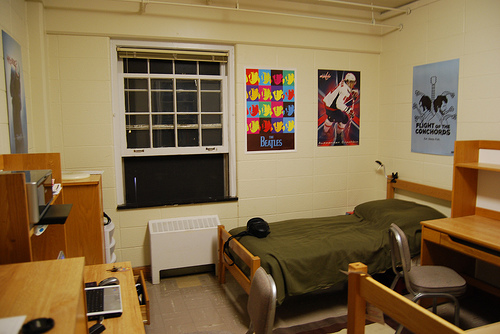 Whether you know who you're rooming with or not, get in touch with them as soon as possible to discuss what kind of stuff each of you are bringing. You might find that you have a generous roommate that is going to bring everything, and not hold anything over your head for using their stuff. If you're both broke however, see if you can't split the cost on some of the essentials.
"One Man's Junk, Is Another Man's...."
---
Classified ads are your friend. Bargains can be found in your local newspaper, university/college newsletter, or Craigslist. Start looking for "free"stuff, or other things for sale that you will find particularly useful. The key is in bargaining -- even if you're not the best business person, emails seem to make it a lot easier when making offers. Bid low...like half of what they're asking or less. You might end up getting a used 40" plasma for $75, who knows?
Cheap by Nature
---
Practicing cheap dorm decorating doesn't necessarily mean you have to look for a bargain on everything. There are some very useful items you can buy at K-Mart, Walmart, etc. for just a few dollars. Make a quick note of anything you might need and set your budget. Cheap dorm stuff like this include: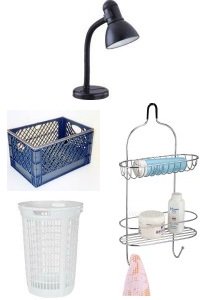 Posters

Wall Hangers

Clothes Hamper

"Bargain-Bin" Lamps

Shower Caddy

Crates

Small Plastic Trash Can

Calendar

Get some good Cheap Dorm Decorating ideas? Click her to go back to College Dorm Necessities