College Dorm Necessities
College dorm necessities might have different meaning for some than others. Today's newer dorm rooms are starting to look more like town homes than actual student dorms. Depending on the space, the essentials you will need vary.
Sleeping -- Most of the time, the college will provide you with a mattress and bed frame.
Furniture -- If you live in a small standard dorm, space will be limited to put furniture in, and larger ones will likely include a couch, chairs, etc. Standard dorms are outfitted with a wardrobe, bookshelf, and a loftable or chair.
Appliances/Electronics -- Many colleges allow students to bring in a T.V., dvd player, gaming systems, a microwave, radio, and coffee makers. Due to fire hazard policies, some colleges are more strict than others when it comes to electrical equipment. Laundry services are usually coin operated units that the entire dorm shares.
Cooking -- Traditional dorms will not have a kitchen area. Mini-refrigerators and microwaves will likely be the extent of cooking. However; large suites will have kitchenettes, but you may be required to supply your own silverware, plates, pots and pans.
College Dorm Necessities:
The Essentials
---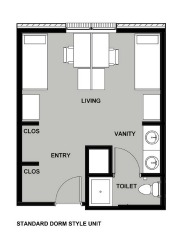 College Dorm Necessities:
Useful Products for Dorms
---
Under-the-bed storage

Closet Organizer

Behind-the-door organizational hanger or mirror

Iron and ironing board

iPod speakers

Fan

Wire Organizer

Dustbuster/small vacuum

Wall posters/art/pictures

CD/DVD rack

Mini-fridge
- Check out more Cool Dorm Room items -
Before Dorm Move-In:
Roommate Relations
Unless you're one of the lucky few who get their very own room, odds are you have to split your dorm room with 1-3 more students. Upon applying for student housing, you will be given a questionnaire that is supposed to match you up with students that exhibit similar interests and attitude.
Furnishing on a budget?
Check out these tips for Cheap Dorm Decorating
Bad roommate relationships are awkward. An easy way to ease the tension is to be as honest as possible (without being a jerk) the first time you meet and go over the ground rules. One thing you might want to bring up soon after moving in is bringing boyfriends/girlfriends over. Compromise ahead of time how you will work out scheduling in that regard. Shoot an email to your future roommate asking whom is bringing what (T.V., DVD player, mini-fridge, etc.).




Leave College Dorm Necessities and find more
things you Need for College